The Pantone 2018 colour has been announced
After the delicate colours chosen in the preceding years such as the Quartz Rose, Blue Serenity or Greenery this year's colour is a game changer. Indeed the UltraViolet is a determined, strong colour, historically connected to mysticism and power.  A non-conformist colour that in the past has been used by music icons including David Bowie and Prince, the Violet rainmaker, in creating powerful counterculture symbols and style trends.
Who's Pantone?
As many know-Pantone is a North American company that deals with the cataloguing of colours and their identification. The Pantone system was created in the 1950s, each colour is classified and given a code which is incorporated into a catalogue through which the colours can be "read" and selected.
From 2000 onwards, Pantone has been announcing a representative colour for the year. The selection of this colour is by no means casual. Pantone's team of experts try to highlight a colour that manages to narrate the historical period we are living in. UltraViolet communicates originality and visionary thinking that stimulates looking to the future with ingenuity and creativity.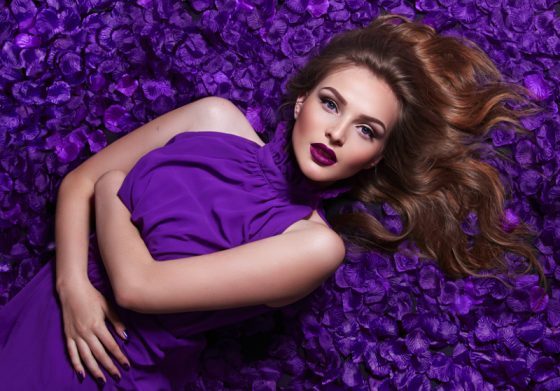 Glamour and lifestyle
Let's get ready then because we will see this colour everywhere: in fashion, beauty, interior decoration, technology and accessories… there will be an invasion of violet! The upside is that this colour suits both blondes and brunettes and for redheads is a decidedly perfect colour.
This is an intense, bright colour and why not say it? Sexy, that will illuminate your face, in which – the most daring – will use in makeup!
This colour will be a great ally in jewellery, and it is no coincidence that it seems to perfectly represent the most eternally loved and coveted gemstone: the amethyst.
It is a macrocrystalline quartz of disturbing beauty and out of time, which thanks to iron presents its typical colour violet fascinating and disturbing.
You might mistakenly think that amethyst is all more or less the same, but it's not. Let's discover together the fabulous universe of this precious stone that is beautiful and magical!
This amethyst is known for its intense colour, the most sought-after specimens are those darker ones that are illuminated in turn by red-pink reflections. It is mined in Brazil at the Brejinho mines in the state of Bahia between the Espinhaso mountains. Its transparency and purity make it one of the most beautiful amethyst that can be found. The only drawback is that the more vividly coloured specimens are sporadically found.
It is an amethyst with a more delicate tonality, presents colours ranging from orchid pink (which was the colour of Pantone in 2014) to a firmer violet. Luminous and of a crystal clear transparency, it is considered the amethyst of the feminine par excellence.
Classic colour: the "Siberian" violet of this amethyst with red glitter is considered one of the best in the world. It also possesses purity and shine. This variety of amethyst comes from Artiga's province in the north of Uruguay. The strong presence of iron renders its deep and intense colour, just like the colouring of UltraViolet in 2018.
Siberian Amethyst
Considered the amethyst par excellence. Its colour is perfect. Its saturation is so intense that you could say it is unique, its violet UltraViolet is so deep that it assumes tonalities that tend to blue and if exposed to incandescent light, this gem is lit by red reflections, like the best of tanzanites. Siberian Amethyst is also extremely rare, extracted from pegmatitic deposits, grows in crystals and is found in the depths of eastern Siberia.
Zambian Amethyst
The amethyst from Zambia is wonderful. The problem is that 99% of Zambian amethyst is not too pure, and therefore the selection made of gemstones adapted to be worn in jewellery greatly reduces their availability. Its colour is intense and saturated which together with a good purity makes the gemstone is splendid and it is precisely the combination of these two factors that are not frequent and makes it so rare.
You will have noticed that it will not be difficult at all to insert the colour of the year in your jewellery box. From Juwelo we are ready and happy to help your 2018 match the Pantone Ultra Violet!