In 1939, aristocratic Italian jewellery designer,  Fulco di Verdura opens his jewellery store on New York's legendary 5th Avenue.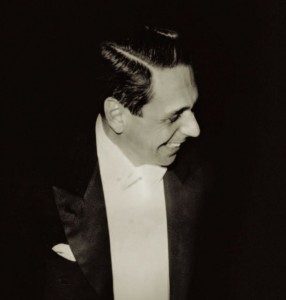 Duke Fulco di Verdura
Many of you know the name of Duke Fulco di Verdura and for all those who do not know, di Verdura  would become a legendary designer to the stars of Hollywood and establishing an indelible brand.
Born in Palermo in 1898 to an aristocratic  intellectual Sicilian family, Fulco was from his early childhood a restless creative. Early on  as a teenager he was known  as a "bon vivant".  After World War I, the European Jet Set discovers Sicily as a  vacation destination, introducing the young Fulco into yet another level of society and its  shining lights. In 1919 he had the great fortune of meeting the American composer Cole Porter and his wife Linda. They would become close friends, a friendship that would  last throughout his life.  Six years later, Linda Porter presents Fulco  to Coco Chanel at one of her  parties.
Immediately the stylist and the young creative have a strong artistic bond that would impact the world of fashion and design.  In 1927 Coco Chanel invites Fulco to work in her atelier as a textile designer and encourages him to explore his endless creative qualities.
Coco encourages di Verdura to turn completely to jewellery design.
The woman from Paris who would change fashion, prompts di Verdura to seek new horizons in the field of jewellery.  At this point,  his jewellery takes a 180 degree turn from  the prevailing  "art deco" style.  Fulco's celebrated designs include interpreting the "Malta Cross", in gold bracelets with precious stones of multiple colours and his  Byzantine style brooch, which were designed for Coco Channel. Inspired by the mosaics of the Church of San Vitale de Ravenna  , the "Malta Cross" bracelet was one of the great design milestones of his career.
Diana Vreeland, owner of one of the precious Byzantine brooches, said that Fulco di Verdura Was the first to use coloured gemstones in opulent yellow gold designs. Far away from the classic platinum and diamond combinations that were ubiquitous in the 1920s.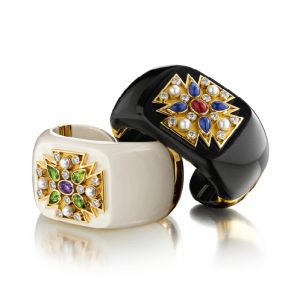 Fulco di Verdura Rings
In the mid-1930s, motivated by his friend Cole Porter, Fulco moved to the United States and quickly became a sought after jewellery designer to the stars.
Not only did actors such as Marlene Dietrich, Tyrone Power, Gary Cooper, Joan Crawford and Greta Garbo collect his pieces, but directors such as Hitchcock and Cukor asked di Verdura for jewellery designs for their films.  Joan Fontaine wore a brooch with Pink Topaz designed by Verdura in her role in  "Suspicion" and several brooches were commissioned for the figure of Katharine Hepburn in "Live to Enjoy."
di Verdura created his designs with a certain humorous and extravagant flair leading  him to collaborate with Salvador Dali on a collection that was exhibited in Manhattan for only once in 1941 and then later in the Herrera sponsored retrospective in 2014.
The Power of Style: Verdura at 75
In 2014 a retrospective exhibition was commissioned by Carolina Herrera, her husband Reinaldo and her daughter Patricia. The show took over four years to prepare and included 216 original pieces designed and created by the genius of Fulco di Verdura, together with the 10,000 sketches he made of which a third are still on paper. It is thanks to his business partner Joseph Alfano that many of these sketches have managed to remain, as Alfano kept with perseverance all the drawings and rescued even some that ended by the neglecting Fulco in the paper basket.
Many of these pieces today belong to celebrities like Sofia Coppola, Sarah Jessica Parker, Brooke Shields and Carolina Herrera herself. Seeing the strident display of Verdura's designs we are convinced more than ever that colourful gemstones have returned to be established in modern jewellery, remaining there forever.