Growing up in a world of art and ideas as I did, colour has always had a strong place in my sense memory. Colour has and continues to influence my emotions and sense of well-being.  It can be as simple and as basic as a reaction to looking down at a bright green bath mat and feeling somehow happy or being grateful for a brilliant blue sky. Thus, setting the mood of the day (or at least a few hours of it). Well, it turns out that I am not the only one on the planet who is affected by colour. Even Janis Joplin asked the Lord for a Colour TV! In addition to the wise words of Ms Joplin, and the experience of being the life of the party when wearing a red dress, I looked into colour from art therapy, to chakras , to trend forecasters and colour standardising guru Pantone, to get some answers.  Part of the belief in chakras  (Hinduism, Buddhism et. al) is, that by wearing, gazing at, meditating on,  or even just imagining the healing colour in focus, one can be supported by this colour in self-healing of an area of the body or psyche. We all have favourite colours when it comes to clothing, furnishing, art and design and of course gemstones but it goes deeper than that.  There is a reason certain colours have an impact on us and it's decidedly not airy-fairy or hippie based theory.
Colour is light and energy. Colour is visible because it reflects, bends, and refracts through all kinds of particles, molecules and objects. Visible wavelengths fall approximately in the 390 to a 750-nanometer range in the visible spectrum. Other wavelengths and frequencies are associated with non-visible light such as x-rays & ultraviolet rays. Most people are aware of the effects of non-visible light, so it makes sense that visible light would also affect us.
The History of Pantone®
Pantone took the throne as the commercial, industrial and design world's official colour experts in the early sixties. The colour charts provided by the company are used as a standard in printing and other uses worldwide. Pantone, as we know it today, was founded in 1962, when the company—at the time a small business which manufactured colour cards for cosmetics companies—was bought by Lawrence Herbert, who had been an employee since 1956. He immediately changed its direction, developing the first colour matching system in 1963. Herbert remains the CEO, Chairman, and President of the company.
In addition to the colour chart for printing and artwork, and decorative painting etc.,  the company's  products include the Pantone Guides for, fashion colour reports, colour branding for companies and much more. The Pantone Color Institute has named a zesty yellow-green called "Greenery" the 2017 Colour of the Year.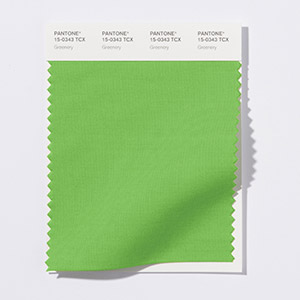 "Satisfying our growing desire to rejuvenate and revitalise, Greenery symbolises the reconnection we seek with nature, one another and a larger purpose," says Leatrice Wiseman, Pantone's executive director.
the effect of which can then result in lower blood pressure, whereas the colour red might have the opposite effect. Green is another colour that may be used to relax people who are emotionally unbalanced. Remember my reference to the early Danish Jewelers, gazing on an Emerald to rest the eyes during tedious work a few columns ago? Yellow, on the other hand, may be used to help invigorate people who might be suffering from depression.
It's no mystery that the sun and its source of light (or lack thereof), can have a profound effect on us. Thousands of years ago, some countries began exploring colour and its healing capabilities. Egypt, Greece and China are known for their forays into colour healing and therapy. A few examples include:
Painting rooms different colours with the hopes of treating certain conditions.
Utilising colours in nature in their surroundings (blue from skies, green from grass, etc.)
Healing rooms that utilised crystals to break up sunlight shining through.
There is evidence of people attempting to use colour for healing and therapy from as far back as 2000 years. And it has gained popularity throughout the years, with numerous books being written about it, including Johann Wolfgang Goethe who studied the physiological effects of colour. As we mentioned though, many people are sceptical about using colour and light for healing or therapy.
resources:
https://www.pantone.com/fashion-color-report-fall-2017
http://www.arttherapyblog.com/